TALES FROM THE WRITERS' ROOM

Every couple of months this group of misfits and wacky fun-sters gets together in a room...a Writers' Room in fact...and writes a series of original comedy sketches (OK, sometimes they're poignant and maybe even a little heart warming but we won't admit to that). Anyway, out of this secular conclave of tumultuous tom-foolery will grow 15-20 theatrical pieces that, when wed to the magic of SPT's raucous rock and roll, makes for an evening of live entertainment unlike any other in Eastern Iowa.

The writers are (for the most part) also the actors in the show and are joined by guest actors, writers, musicians, poets and dancers drawn from our ridiculously talented arts community throughout each season.

The Writers' Room concept has been selling out houses five times a season at the CSPS Hall for 10 years now...so they must have struck the right chord!
SPT WRITING STABLE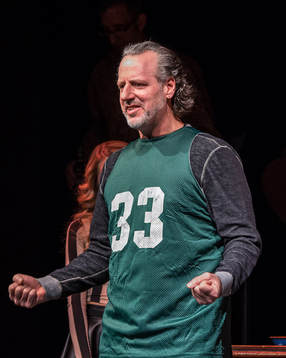 David Martino
David has been with this gang ever since he told his therapist pal Jane, "Your music's great but you need writers." Since then, he's worked with the SPT goofs on two Salons, two full length plays at Theatre Cedar Rapids, and too too many laughs during his ten years in the writers' room.

When Dr. Ringo's not contributing to the comedic chaos, he works as a psychologist trying to help people find a little bit of peace in a crazy world. He got doctored in Chicago, had some young'ns and moved 'em to Iowa to raise 'em tall among the corn, which he did, which they did, which is good, because their mother is tall and beautiful, which is nice.

He is proud to have been published in both Developmental Psychology and The Journal Of Polymorphous Perversity. He's done poems, song spoofs, and illustration script development for nationally published children's books and videos, which was a continuation of what he did for quarters in Catholic grade school. He was a guest expert on the nationally-syndicated Jenny Jones Show (pre-murder) when he was younger and substantially less gray, an experience which, to this day, every time he remembers it, makes him want to take a shower.

The last few years and currently Martino is working with fellow Writers' Room compadre Adam (Jesus) Witte writing local celebrity "roasts" to help poke fun and raise money for The Cedar Rapids History Center. Also, he is a founding member of the long-running Black Doggers playwright group, and this spring, his work will be amongst other Doggers' works in a compilation of short plays set – and played – in a diner. It has not yet been titled but he is now dubbing it 'Dogger Diner.' Tip your waitress.
​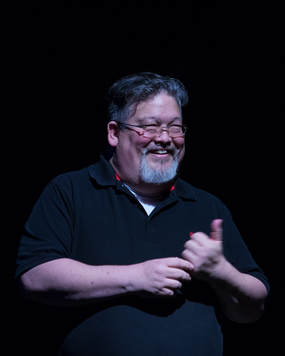 Christopher Okiishi
Christopher is a writer, performer, director, and producer of theater based in Iowa City. In recent years, he and/or his work has been seen at City Circle Acting Company of Coralville, The Writer's Room at SPT Theatre, Odyssey Theater in Los Angeles, Coe College, The Hook: Drop the Mic, The University of Iowa Department of Theater, Old Creamery Theatre in Amana, the New York Film Academy, and Riverside Theatre in Iowa City.

He also is a child, adolescent and adult psychiatrist at several Iowa locations. He lectures regularly on topics of children's mental health, nominated for Teacher of the Year eleven times at the University of Iowa Carver College of Medicine. He teaches the Senior Musical Theater Intensive Class at the Nolte Academy in Coralville and coaches the Musical Theater Speech teams at Iowa City High.

​He is a life-long lover of musical theater and has written the scores for four theater projects and one film, the latter of which won Best Musical at the 2016 Garden State Film Festival. He lives in Iowa City with his partner, actor/director Patrick DuLaney. In 2016, they founded a production company dedicated to bringing great works of theater to unusual locations in the Iowa Creative Corridor. In his spare time, he enjoys reading and sleeping, usually in that order.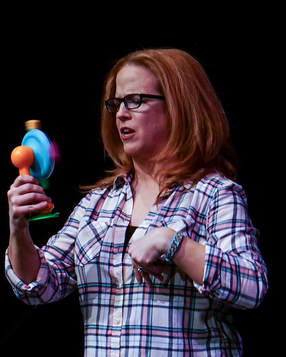 Lindsay Prince
Lindsay is a wife, mother, writer, performer, and wrangler of anxieties. She has been a successful Facebook post writer for more than a decade. Her writing is often happily inspired by her two precocious children, Eloise and Phoebe, and her effervescent husband, Casey. Those silly little posts, along with an opportunity to guest perform with the crew, catapulted her into the Writers Room.

Lindsay also spends her time as Head Writer for The Follies, performed at the historic Paramount Theater in Cedar Rapids, and as Writer and Creator of the blog Chaos For Breakfast.
​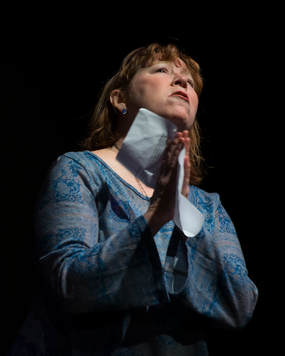 Mary Sullivan
Mary is a freelance theatre maker. Her areas of expertise include acting, directing, lighting design and play writing. As a junior at Coe College, Mary went to New York City and that semester she was cast in an Off- Broadway play and joined the Actor's Equity Association. Mary spent many years as a professional actor in New York working on Broadway and in Regional theatre. Mary also started working in film and national commercials and joined the Screen Actor's Guild. After meeting her husband, David working in a play together in Maine, they moved to Los Angeles when Mary was cast in the film Baby Boom. They lived in Los Angeles for over 22 years. Mary made a living as an actor in television, in commercials, regional theatre, directing and lighting design.

​Since returning to Iowa, to be close to family, Mary has continued working as an actor, and director, educator, lighting designer, stage manager and writer. Mary is proud and pleased to be a founding writer-performer of The Writer's Room and to have found a creative home with SPT Theatre.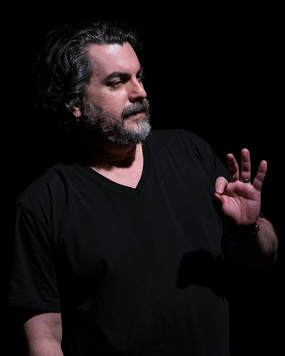 Adam Witte
Adam is a husband, teacher, writer, and performer. He has worked with SPT Theatre for more than a decade, first as guest writer-performer for their Salon at Brucemore series, which was then performed as the one-man-show Tic…Tic…Tic… at Riverside Theater in Iowa City (2007) and later adapted into a musical through collaboration with musician and song-writer Dan Bern (2013). A second SPT project, written collaboratively, led to Biographical Notes at Riverside Theater (2008). The birth of The Writer's Room series followed soon after.

In addition to writing for the stage, Adam contributes articles and comics to Little Village, an arts and culture magazine published in Iowa City; his short stories have appeared in The Armchair Aesthete and Alfred Hitchcock's Mystery Magazine.

Adam Witte is also the Language Arts department chair at Washington High School in Cedar Rapids, Iowa, where he has taught for more than twenty years.

He lives very happily in Iowa City with his beautiful wife Candice and their seven (!) cats. He is never not grateful for all that this life has provided.